Review: Woody Pines – March 2016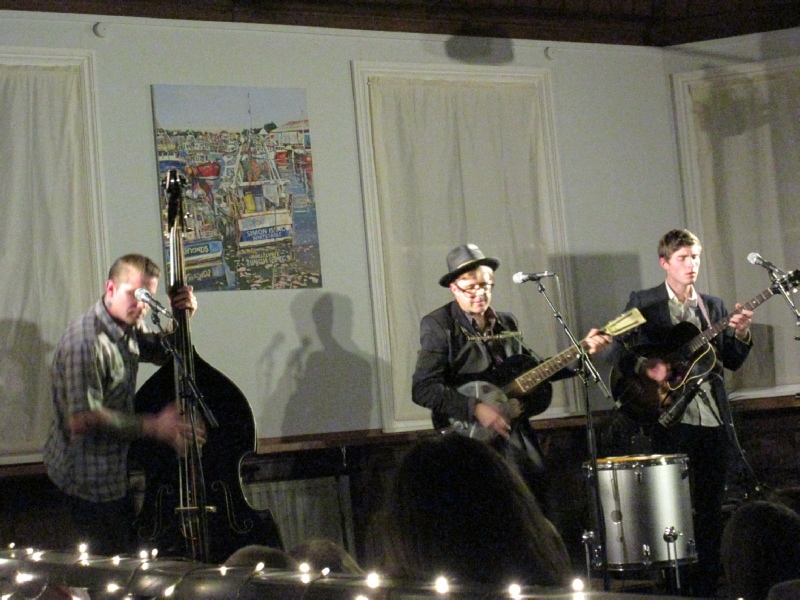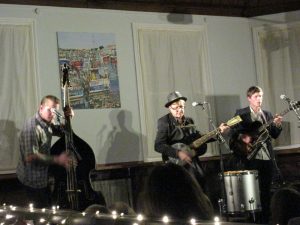 If you miss the chance to catch Woody Pines and his band in the UK, you could follow them back to Nashville and join the crowd of 40,000 they'll be playing in front of at the Grand Ol' Opry.
But if you were smart enough to have grabbed a ticket for their visit to Whitstable Sessions, you got to see a fantastic night of rockabilly, folk, old time, blues and r 'n' b right here in east Kent, up close and personal.
They're the sort of band you always hope you're going to stumble across busking on some street corner, with a crowd dancing and whooping along – this is not music to sit still and listen to in reverential silence; your feet will start tapping and your hands will start clapping involuntarily. It makes you want to jive and lindy hop, slick back your hair or twirl your polka dot skirt in some hot club back in the Fifties, or come over all Woody Guthrie and ride freight trains with hobos; or grab your banjo and head for the mountains.
At the very least, it makes you want to buy their CDs.
Woody Pines is both the front man and the band's name, slightly confusingly; but this isn't a one-man show. These are three equally talented musicians brought together from across the USA. Californian Dakota Collins was extraordinary on the double bass, while Josh Irwin, from Florida, gave a virtuoso performance on his 1952 Gibson electric guitar; and centre stage there's singer and songwriter Woody himself, from New Hampshire and now Nashville, on resonator guitar and harmonica. He's an entertaining story teller too with some great anecdotes from their life on the road.
You can find all kinds of influences, styles and references in their music; from juke joints and jug bands to hillbilly and rock, vaudeville and country. It's not all fast and furious either – I really liked the gentler Little Stella Blue and the atmospheric Hobo and his Bride; there was even a tribute to the great old banjo player Dock Boggs in the mix.
A very cool band and some very hot music made it a night to remember.
Watch the Woody Pines interview here.
This review by Debbie Neech also appeared in K M Group newspapers.