Review: Plainsong – July 2016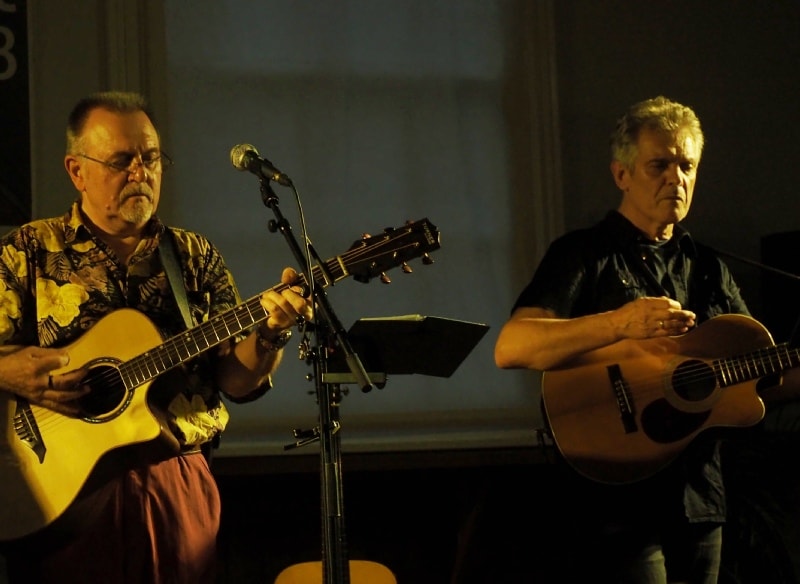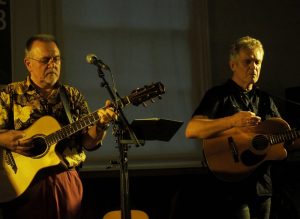 There were five talented musicians on stage for this gig – the two Bimble Brothers and three in Plainsong – but it felt like the room was filled with echoes of many more.
First the brilliant Bimble Brothers played a lovely mix of their own material, blues and old-time American songs – and there they were, the musical ghosts of the likes of Mother Maybelle Carter and Doc Watson hovering in the background. It was great to hear old-time songs like Angelina Baker and Old Joe Clark, alongside bluesy numbers including Deep River Blues and ending with a traditional folk song The Cobbler.
The ghosts of music past were back for the main act of the evening. Ever present for Plainsong's set was the spirit of singer songwriter Richard Farina. I suspect I wasn't the only person in the room who had to look him up beforehand because his name rang no bells, but Iain Matthews, Andy Roberts and Mark Griffiths of Plainsong are doing their utmost to correct this with their album Reinventing Richard: The Songs of Richard Farina.
A contemporary of Bob Dylan, Farina recorded two albums, with his wife Mimi – Joan Baez's sister – before his tragic early death in a motorbike accident in 1966. A third album was released posthumously. "If Richard had survived he would have easily given Dylan a run for his money," said American music writer Ed Ward.
Now songs like Pack Up Your Sorrows, Lemonade Lady and Sombre Winds are getting another airing in Plainsong's reinvention, inviting a new audience to discover the intriguing talent who could come up with the likes of House Un-American Blues Activity Dream and the Sell-out Agitation Waltz (clearly he wasn't a man of few words!).
The musical tributes didn't stop with Farina. The band played a few well-chosen covers – from Richard Thompson's From Galway to Graceland to Jerry Yester's Raider and a great song by Nashville songwriter Mark Germino, called The Rat and the Snake – it was a tasting menu of musical treats.
And we weren't quite done with ghosts in the musical air. Plainsong also played two of their songs, In Search of Amelia Earhart and True Story of Amelia Earhart – now we didn't only want to go off and research musicians from the past, we wanted to dig deeper into the life story and disappearance of the famed pilot.
I don't know if the ghosts had anything to do with it, but the appreciative audience definitely left in high spirits.
This review by Debbie Neech also appeared in K M Group newspapers.