Review: Furnace Mountain – October 2016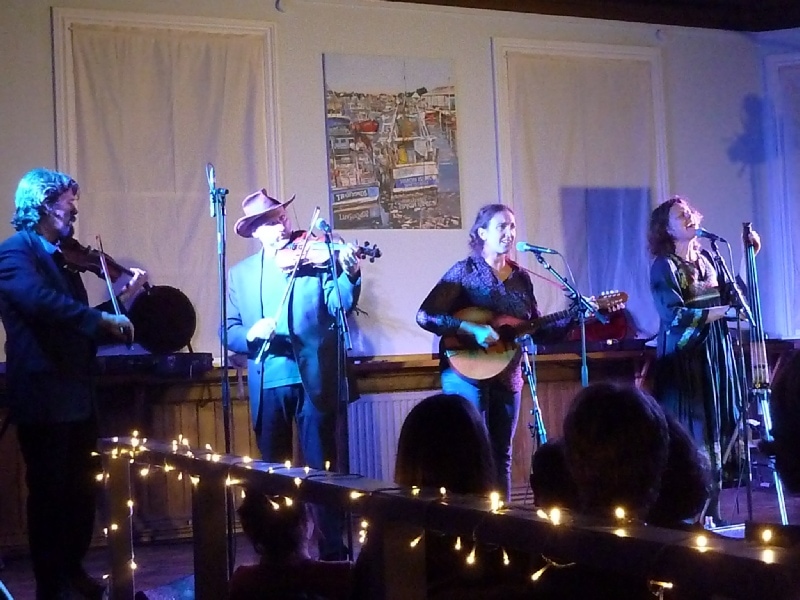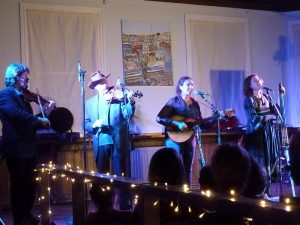 "I hope y'all don't mind being called y'all," mandolin player Danny Knicely asked the Whitstable Sessions audience.
Mind? We were so far under the spell of Furnace Mountain we were wishing we lived in the Shenandoah Valley and could be surrounded by the incredibly rich musical history of Virginia which these four musicians embody. So if you're greeted by a neighbour in Whitstable this week with a cheery "How y'all doing", you'll know where it came from.
We were doing just dandy, listening to the sublime vocal harmonies and mandolin, fiddle, bouzouki and bass which Furnace Mountain served up. This was their third appearance at the club and it was a sell-out – I think word had spread that this band are really something.
There was ample proof of that, from the charm of Ooh Belle to a lovely version of Dink's Song or their song Graveyard – more uplifting than it sounds. Whether singing about lonesome pines or winter's nights, setting W.B. Yeats' poetry to their own music, or playing high-speed instrumental fiddle tunes, they had the audience under that spell and kept them there.
There is something so atmospheric about music drawn from the American Appalachian tradition and performed as well as this that it makes you start planning your trip to Virginia – although listening to West Virginia Boy's catchy chorus about johnny cakes (fried cornmeal gruel, I looked it up) and sassafras tea (made from tree root and possibly toxic) might not whet your appetite!
The four members of Furnace Mountain have been blessed with a prodigious amount of talent. Danny Knicely, complete with cowboy hat, boots made for dancing and a winning wit, must be the coolest mandolin player around, and the speed at which he can produce a flurry of notes at times defied belief. It doesn't stop at mandolin, he also plays fiddle and guitar. On fiddle, David Van Deventer gave a master class, while I could listen to the voices of Aimee Curl, who also plays bass, and Morgan Morrison, who also plays bouzouki and guitar, all night long.
So there y'all have it – Furnace Mountain left us on a high.
This review by Debbie Neech also appeared in K M Group newspapers.