Review: Sean Taylor Trio – October 2016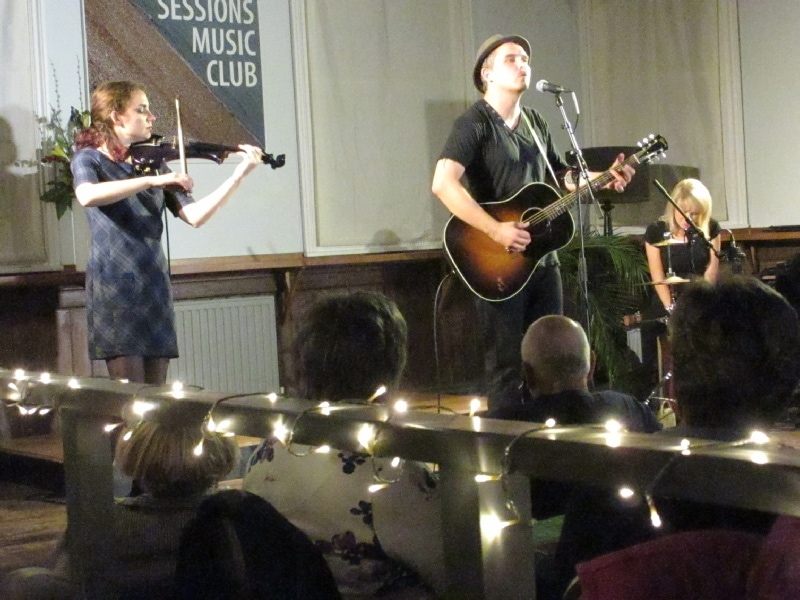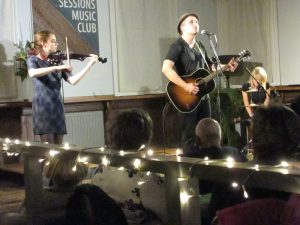 This was Sean's third pitstop at the club on a journey that has been taking him from undiscovered treasure through up and coming, one to watch and now successful touring and recording artist, with regular radio airplays and rave reviews, seven albums under his belt and another on the way and appearances at Glastonbury, among many other credits on his musical CV.
This time he came with his band – the excellent Hannah Piranha on violin and Paulina Szczepan on percussion – and they added another dimension to this night of the blues which gave us not only Sean's own compositions but everything from BB King to Tom Waits, by way of Elvis and Gerry and the Pacemakers.
A dramatic smoky blues version of Heartbreak Hotel set the tone and then we were into Texas Boogie, a tribute name-checking some of his musical heroes including Stevie Ray Vaughan and Townes Van Zandt, and a driving, rocking cover of Merle Travis's Sixteen Tons and Deeper in Debt as well as Sean's own The Only Good Addiction is Love, the title track of his most recent album.
Before the night was out we'd also had BB King's The Thrill is Gone and Tom Waits' Way Down in the Hole. We were deep in the blues, indigo deep, with bursts of Sometimes I Feel Like a Motherless Child and Freedom, but just in case the shades of dark blue needed a lift, there was the gentle charm of Perfect Candlelight, with Hannah's violin the perfect accompaniment.
Sean's blues guitar playing is so accomplished – he's often compared to John Martyn – and his voice has a smoky, gravelly quality – imagine Clint Eastwood in full spaghetti western mode just spitting out the occasional gruff line without discarding the cigar in his mouth and you have a rough idea of what I'm talking about.
It just goes to show sometimes a dose of the blues is good for the soul.
Watch Sean Taylor's interview here.
This review by Debbie Neech also appeared in K M Group newspapers.